Thousands of candy-sized fentanyl capsules have been seized in Arizona this week, inflicting regulation enforcement officers to be involved a few harmful new development surrounding the drug.
In a tweet on Thursday, Customs and Border Protection (CBP) Port of Nogales Arizona Director Michael W. Humphries mentioned that officers stationed on the port "seized over 15,000 fentanyl pills strapped to a person's legs."
The tweet included a photograph displaying the capsules, which had an look much like "candy," Humphries wrote.
"This could be the start of a trend with Transnational Criminal Organizations targeting younger users," the tweet added.
The seizure got here simply at some point after Humphries posted the same tweet, asserting that CBP officers on the Nogales Port of Entry intercepted a automobile that was carrying 250,000 fentanyl capsules. In a photograph posted by Humphries, the capsules seemed much like the seizure on Thursday. Humphries described the capsules as "some of which were different colors, similar to the appearance of candy."
Over the previous a number of months, CBP officers and different regulation enforcement officers have continued to work to cease fentanyl from getting into the U.S.
In a press release on Friday, the Drug Enforcement Administration (DEA) introduced that it plans to carry National Fentanyl Prevention and Awareness Day on August 21.
"Fentanyl is the single deadliest drug threat our nation has ever encountered," DEA Administrator Anne Milgram mentioned. "From large cities to rural America, no community is safe from the presence of fentanyl. DEA is proud to work with families who have been affected by fentanyl poisonings to spread the word and to save lives."
This week, the Multnomah County Sheriff's Office in Oregon mentioned that an individual was arrested for alleged possession of "four grams of multi-colored, powdered fentanyl, often referred to as 'rainbow fentanyl.'"
Following the arrest and seizure of the rainbow fentanyl, the sheriff's workplace cautioned the general public, saying, "Deputies are particularly concerned about rainbow fentanyl getting into the hands of young adults or children, who mistake the drug for something else, such as candy or a toy, or those who may be willing to try the drug due to its playful coloring."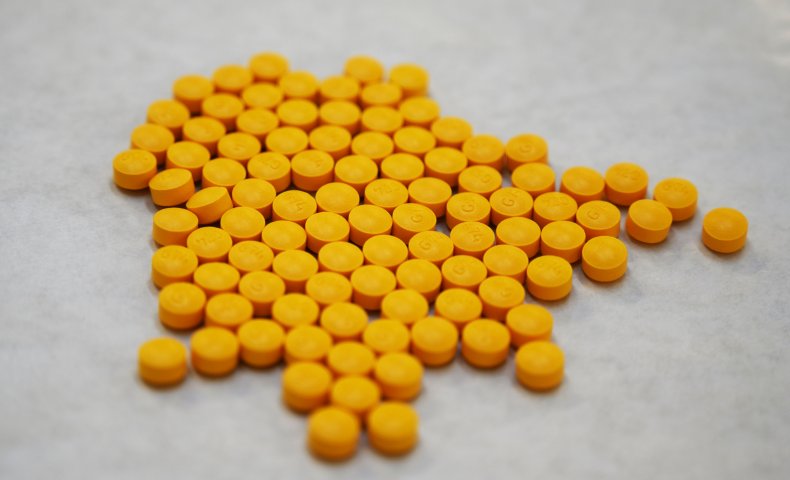 Kelly Sloop, a pharmacist in Oregon and government director of the Need 4 Narcan group, spoke with Newsweek final week concerning the risks related to this new kind of fentanyl and the way drug sellers and cartels may very well be utilizing it to focus on kids.
Sloop mentioned that the rainbow fentanyl present in Oregon has "the consistency of sidewalk chalk but it kind of looks like a taffy, saltwater taffy, and it is very appealing because it does look like candy.
"My concern is for our younger adults and our youth."
Newsweek reached out to CBP for comment.