Singer Pink has lashed out on the response to feedback she made about capturing the "Lady Marmalade" video and promised Christina Aguilera "you know where we stand."
The "Stupid Girls" singer, 43,— whose given title is Alecia Beth Moore Hart— took to Instagram to say she was "so saddened and disappointed by the narrative surrounding some of the press I've been doing around my album Trustfall."
"While some of the responsibility lays with me and my inability to lie, and my uncanny ability to overshare- my real disappointment lies in the fact that the art can never be the focus when you're a woman," she continued on the submit alongside a photograph of herself and her son, Jameson, six.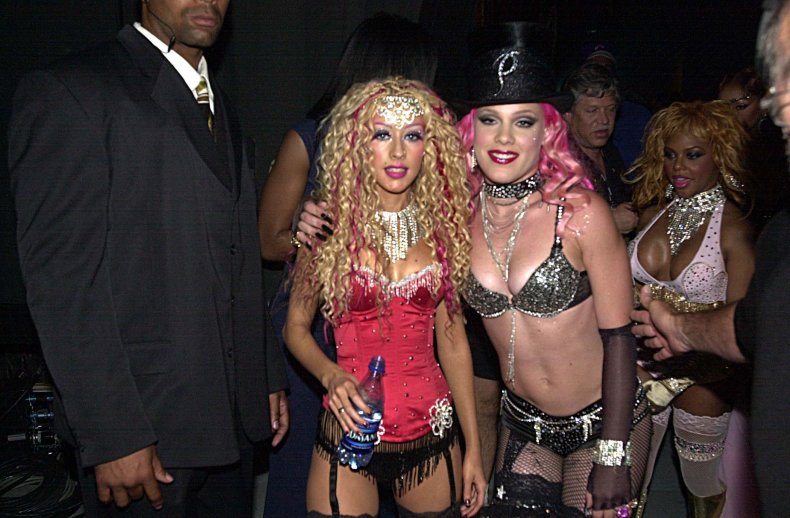 Pink identified she's simply launched "one of the most beautiful albums" and that is what needs to be getting consideration, fairly than a "silly feud from your twenties."
It comes after she was requested about her expertise filming the music video for the 2001 track "Lady Marmalade." The Patti LaBelle cowl track featured Pink and Aguilera alongside Mya and rapper Lil' Kim as the primary single off the soundtrack from Baz Luhrmann's movie Moulin Rouge!.
The track gained the ladies a Grammy for Best Pop Collaboration with Vocals and its video was billed as "one of the most iconic music videos of our time," by People journal in 2021.
During her Trustfall press tour, Pink instructed Buzzfeed the "Lady Marmalade" video "wasn't very fun to make."
"I'm all about fun, and it was a lot of fuss," she mentioned as she ranked it her twelfth favourite video in her profession.
"There were some personalities… Kim and Mya were nice."
Pink added: "I guess it is iconic, but I remember I kept crying because my skin didn't like the makeup. It was just… There [were] some annoying things happening that day."
Many folks interpreted the feedback as a sledge in opposition to Aguilera after their alleged feud got here to mild in a VH1 Behind the Music episode in regards to the track.
Pink had wished to sing the excessive half that finally went to Aguilera, however she vowed on Twitter final week that they had made amends and she or he was not throwing shade on the singer through the Buzzfeed interview.
She continued within the Instagram submit: "I'm out of Practice Dodging the bull**** that gets thrown at us hardworking women.
"I'm infamous For saying an excessive amount of. But I've by no means lied. And for each one or two ladies I've had situation with – there are tons of that I've complimented and supported and beloved on. But we do not discuss that."
Pink then questioned whether major male stars are "requested in interview after interview about any argument they'd ever had."
"We keep on with the artwork with them, Don't we? I'd wish to have the identical alternative.
I additionally imagine in genuine apology- and proudly owning Your Mistakes. I ought to say much less," she continued. "My want is To share the pains and the celebrations of this messy life by way of music and on stage. And I've achieved that. Incredibly and persistently."
Pink finished by acknowledging Aguilera directly.
"To Christina- you realize the place we stand. Resolved. Onwards and upwards. And thanks all for listening- and for the 25 years Of kick ass love and assist.
Peace ✌🏽," she wrote on the Instagram post.
The "So What" singer had tried to quash chat in regards to the feud quickly after the Buzzfeed interview went viral.
"Y'all are nuts Xtina had s*** to do with who was on that song. If you don't know by now – I'm not 'shading' someone by telling it over and over and over what actually happened," she wrote on Twitter.
"I'm zero percent interested in your f****** drama. If you haven't noticed- I'm a little busy selling… And by selling- I mean tickets and albums and bake sales and s***."
The singer concluded by referring to a time the singers performed spin the bottle collectively: "Also – I kissed xtinas mouth. I don't need to kiss her a**."
Aguilera and Pink made amends in 2016 when the latter appeared as an adviser for Team Christina when she labored on The Voice as a decide.
"We were super young and super new at the whole thing," Pink instructed Andy Cohen on Watch What Happens Live.
"I think I'm an alpha and she's an alpha. I'm used to taking my altercations physical and she's used to having them verbal. We just are very different."