A North Carolina man dropped more than 200 pounds in one year, leaving his loved ones in awe.
However, his jaw-dropping transformation wasn't easy, he had to religiously count calories and make "significant" diet changes, including cutting out alcohol, dressings and sauces.
Gregory Galanis, a 42-year-old man who was born and raised in Canada but now lives in North Carolina with his wife, told Newsweek in an interview that he shed the weight without surgery, weight loss medication or even exercising and focused on battling his food addiction and a disciplined diet.
Galanis said he knew he had to "make a change if I didn't want to die at the ripe old age of 40."
He embarked on his weight-loss journey on August 2, 2021, at 420 pounds, and it took him a year to achieve his goal weight of 200 pounds, he said. Since then, Galanis said he's managed to keep the weight off, but noted that "it's a daily commitment."
"I was far too heavy to exercise, so all of the weight loss was through diet alone," Galanis said. He told Newsweek that he didn't work with a professional, such as a nutritionist or dietician, to aid in his weight-loss journey. At 6 feet tall, he was more than 200 pounds over the "healthy" weight range, according to body mass index (BMI), when he started.
Galanis said he hadn't seen his parents, who live in Canada, in more than four years in part due to the COVID-19 pandemic. However, he said his weight made traveling difficult, so when they visited him over the summer they were stunned by his transformation.
"Even though we'd had video calls during that time, it didn't quite do it justice," he said. "When they were finally able to make the trip to see me this past summer, the look on their faces was priceless. At first, they didn't recognize me, and then they almost fainted. I think deep down, they still expected to see 420-pound Greg at the airport. I get the same reaction from people that I haven't seen for a while. They literally walk right by me."
How He Lost Weight
Galanis said that his wife was encouraging from the start of his journey, even losing weight with him during that first year. In addition to his wife, Galanis said since he shed the weight, his "entire family" has made changes to help support his lifestyle change. He said they now cook foods he can enjoy at family gatherings and are becoming more mindful about preparing meals by doing things such as giving up oil and butter for avocado spray.
In addition to the support and encouragement from loved ones, Galanis said to lose weight, he "delved into the science and math of how weight loss works."
"I taught myself about how many calories I needed to consume per day in order to lose the weight," he said. "I learned about my personal metabolic rate and how that changes over time. I learned what foods to eat that kept me full longer."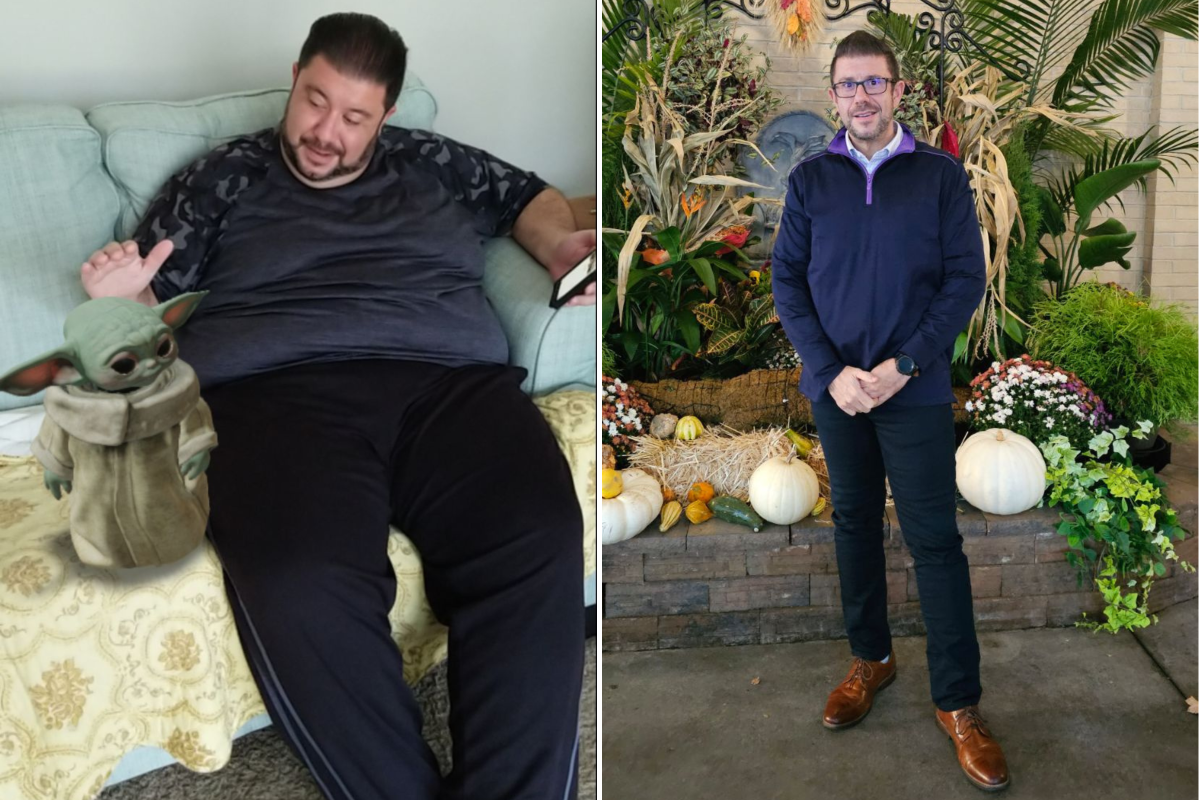 Major Diet Changes
Galanis told Newsweek that he made "significant changes" to his diet to lose weight, including alcohol and most meat.
"I cut out eating all beef, pork, and chicken," he said. "I now eat lean fish for part of my daily protein intake. I also cut out all alcohol. I've learned how to cook vegetables in various ways, using all types of different spices, and cut out dressings and sauces."
He said he eats fruit to satisfy sugar cravings.
"I've embraced becoming a pescatarian," Galanis said. "I have more energy now, than ever before. I still count my calories religiously, and expect I always will."
Why Make the Change
Galanis said he was exhausted.
"The weight bore down on me both physically and emotionally," he said. "My blood pressure was through the roof. I was pre-diabetic. I had suffered 3 pulmonary emboli. I would break into a sweat getting out of bed. I reached the point where I couldn't even walk from the pain. I was a ticking time bomb, and I needed to make a change if I didn't want to die at the ripe old age of 40."
Now, he said he's able to enjoy things that he was left watching from the sidelines. Galanis said he is left worrying and "dreading" things that used to plague his daily life, from air travel sparking "fear" of having to squeeze himself into the airplane seat and using a seat belt extender.
"Not being worried about sitting in a chair at a restaurant and breaking it," Galanis said, adding that it happened to him and was "very embarrassing."
"Not being constantly out of breath," he continued. "Not having the fear of dying too young from something that I can control. "
His Advice for People Trying to Lose Weight
Galanis said they need to want to make the change, not just to lose the weight but also to keep it off.
"They can achieve what I accomplished," he said. "It's not easy, but it can be done."
He said when he first started his journey, there were "many people" who didn't think he could achieve the level of weight loss he did without bariatric surgery.
"I learned that that wasn't true," Galanis said. "There's no magic pill to weight loss. For me, it was finding the discipline to achieve the goal."
Uncommon Knowledge
Newsweek is committed to challenging conventional wisdom and finding connections in the search for common ground.
Newsweek is committed to challenging conventional wisdom and finding connections in the search for common ground.