For over a decade, the Princess of Wales has attended official events wearing a wide-ranging collection of royal jewels comprising pieces made from heirloom diamonds, emeralds, pearls, sapphires and aquamarines.
Though Kate may be better known for her large collection of earrings and the two main glittering tiaras she wears for state occasions, a lesser-explored aspect of her jewelry box is her collection of brooches.
Though they are worn rarely, the princess has important brooches at her disposal. Many of them were loaned to her by Queen Elizabeth, and at least one is a new acquisition.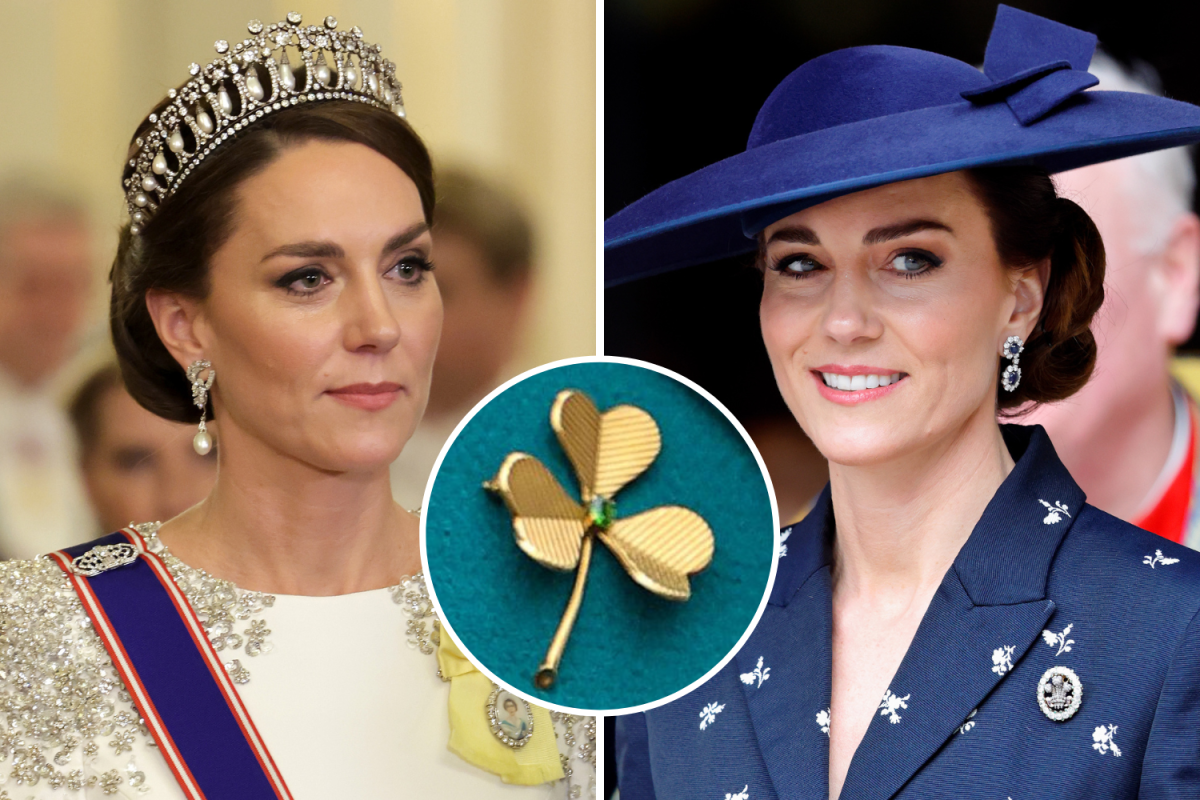 From national emblems to Prince of Wales feathers and art deco statements, Kate's outfits for high-profile occasions have been occasionally accessorized with these important jewels.
Here are six of her most sparkling royal brooches.
Pearl Leaf Brooch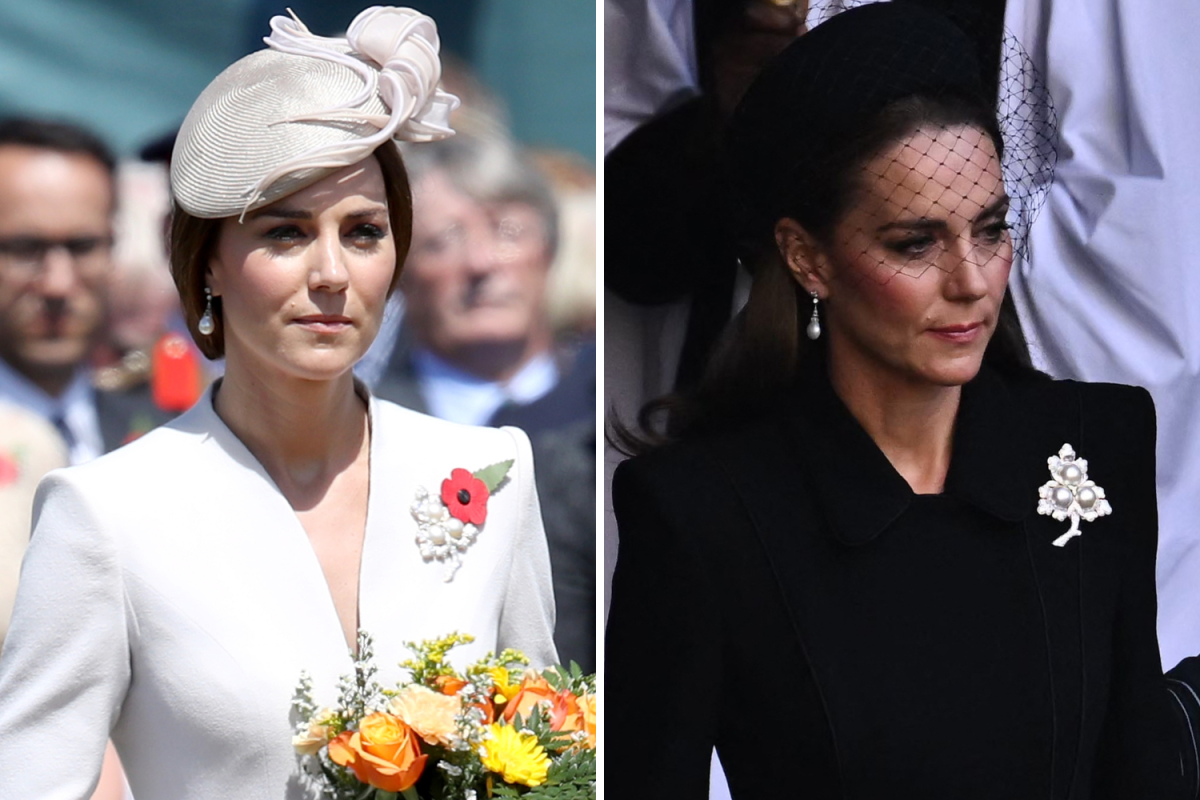 Many of Kate's jewelry pieces were inherited by Princes William and Harry from their mother, Princess Diana. But she has also been the recipient of loaned pieces from her grandmother-in-law, the late queen.
During her lifetime, the queen loaned Kate several pairs of earrings, bracelets, tiaras and brooches, one large example of which is known as the diamond and pearl leaf brooch.
This jewel features three large pearls set with diamonds in the shape of a leaf and was first worn by Queen Elizabeth on her 73rd birthday during a 1999 visit to South Korea.
Kate first wore the brooch in 2017 and has worn it on at least two more occasions, including for the queen's lying-in-state ceremony at Westminster Hall in 2022.
This year, Kate wore a pair of earrings matching the brooch for the Remembrance Sunday service, suggesting that the princess still has the loaned pieces since the queen's death.
Duchess of Cambridge Brooch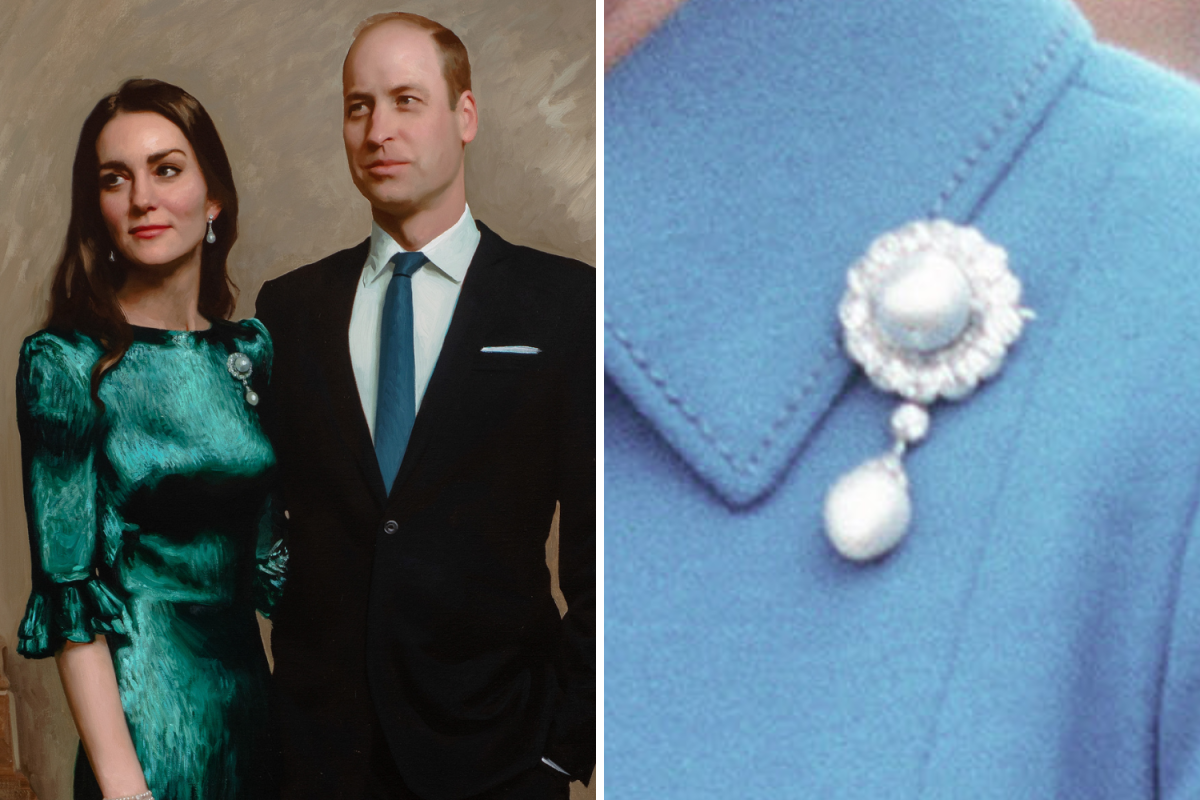 The most historic brooch worn by Kate is a large pearl and diamond creation dating back to the early 19th century and known as the Duchess of Cambridge brooch.
The jewel was first owned by Princess Augusta, Duchess of Cambridge, who married a younger son of King George III in 1818. She was an aunt by marriage of Queen Victoria and the great-great-great-grandmother of Queen Elizabeth.
Kate was made Duchess of Cambridge when she married Prince William in 2011. The first and only time she was shown wearing the Duchess of Cambridge brooch was in the first official joint portrait of the couple, unveiled in 2022.
Irish Guards Shamrock Brooch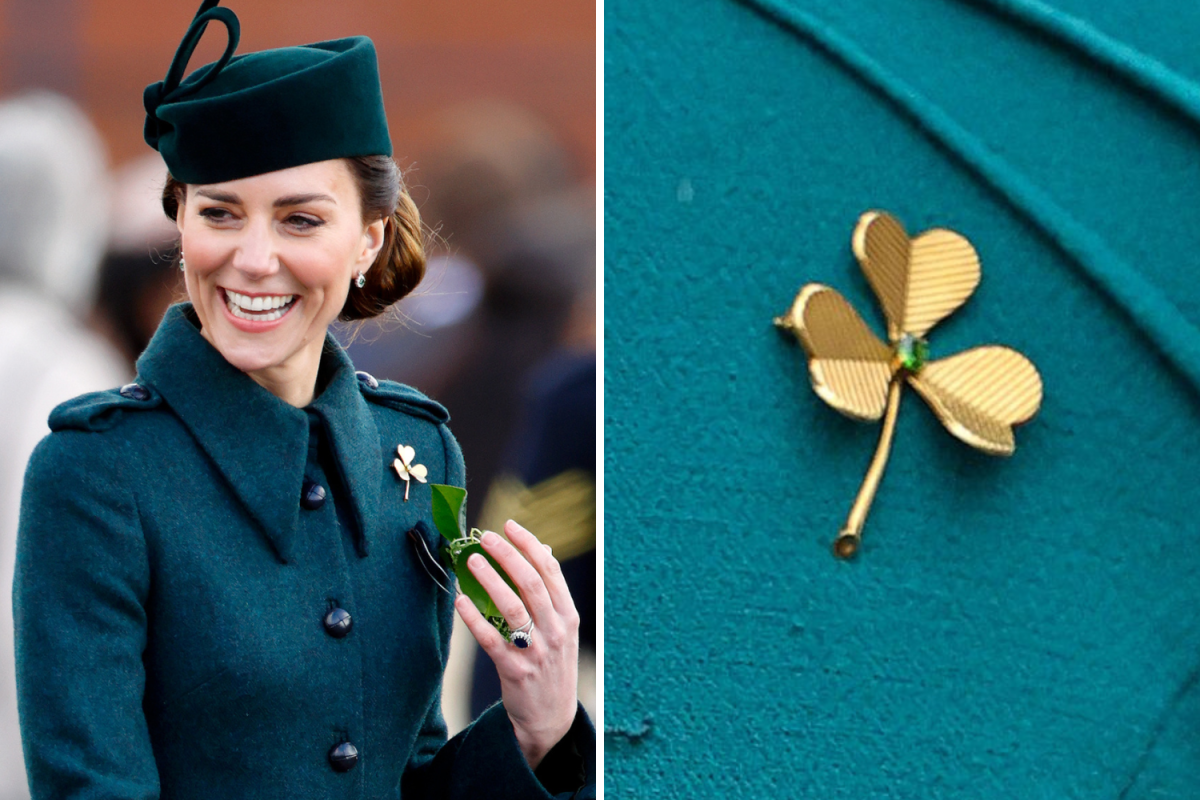 Another brooch with historic associations is the Irish Guards shamrock brooch, which Kate first started wearing in 2011.
Unlike other jewels at her disposal, the brooch is not owned by Kate or loaned by the queen. (Most of the queen's pieces are believed to have been inherited by King Charles III.) The shamrock brooch was loaned to the princess by the Irish Guards regiment.
Prince William became the colonel of the Irish Guards in 2011, and the regiment loaned his wife the brooch. This year, Charles made Kate the colonel of the regiment, and William became colonel of the Welsh Guards. As colonel, Kate has continued to wear the jewel.
The brooch is made of gold in the shape of a shamrock, with a single emerald mounted at its center. It reportedly was made by Cartier and has been worn by royal women over the years, including Queen Elizabeth the Queen Mother and Princess Anne.
Welsh Leek Diamond Brooch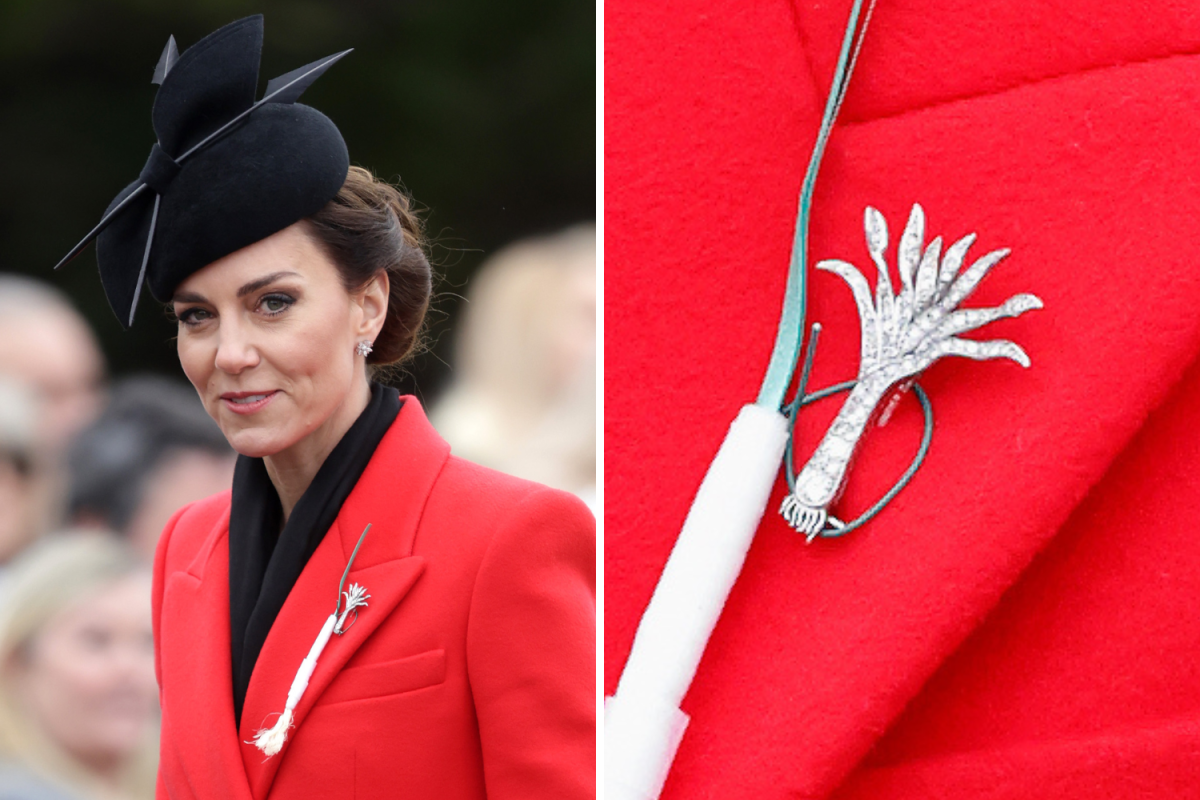 For the first St. David's Day parade of the Welsh Guards, which was attended by Kate in her capacity as Princess of Wales and wife of the regiment's colonel, the royal debuted a new brooch.
Taking the form of a Welsh leek consisting entirely of diamonds, the brooch is one of several in similar shapes owned by various royal women over the years.
Kate's brooch, which has a unique twist to some of the leaves, is believed by some experts to have been the one previously owned and worn by Diana.
Prince of Wales Feathers Brooch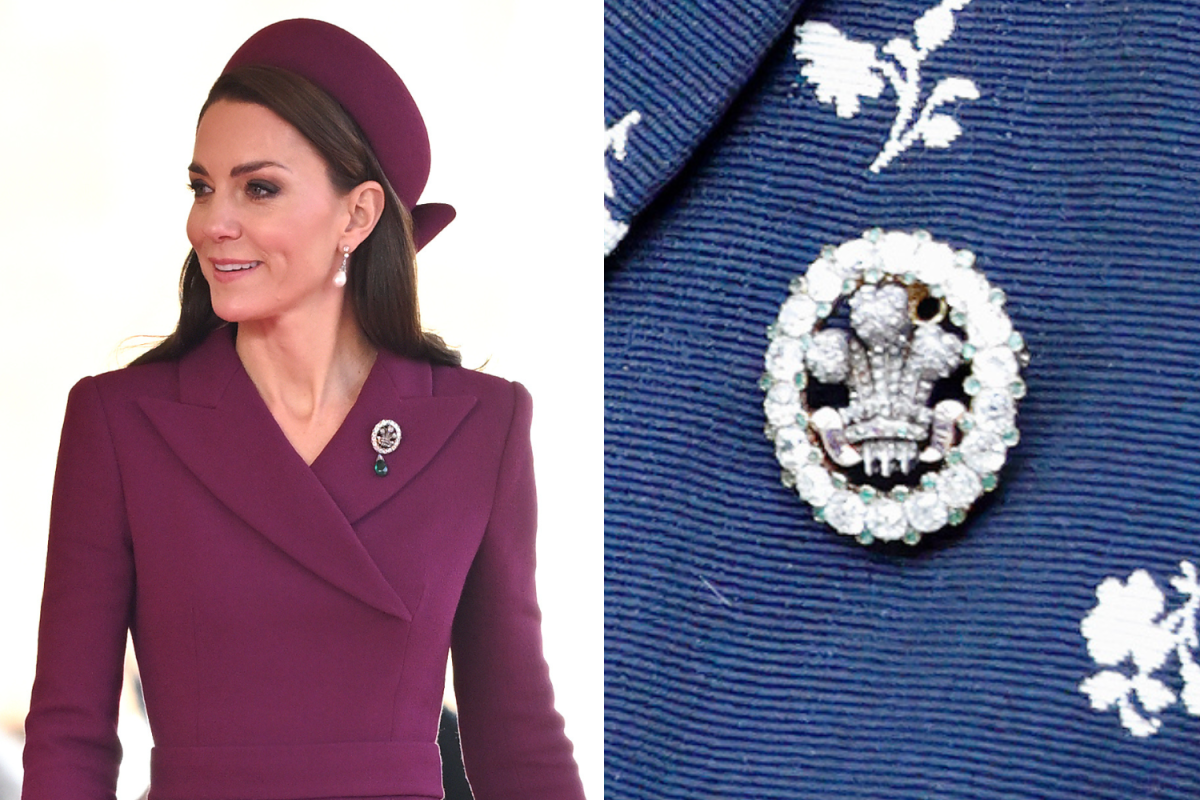 Before Kate, Diana was the last royal lady to use the title of Princess of Wales, but she was not the last royal to hold it.
After her marriage in 2005 to Charles, Queen Camilla was officially the Princess of Wales, but she did not use the title out of respect for Diana, who died in a 1997 Paris car crash.
During her marriage, Diana wore a brooch that took the form of the Prince of Wales feather emblem, surrounded by diamonds and emeralds. The jewel also features a detachable emerald drop and was originally presented to Queen Alexandra as a wedding present in 1863.
The brooch is a rare example of a jewel that was worn by both Diana and Camilla, earning the latter a backlash when she wore it to the horse races in 2017.
Kate wore the brooch for the first time in November 2022, two months after taking on the Princess of Wales title.
Art Deco Diamond Brooch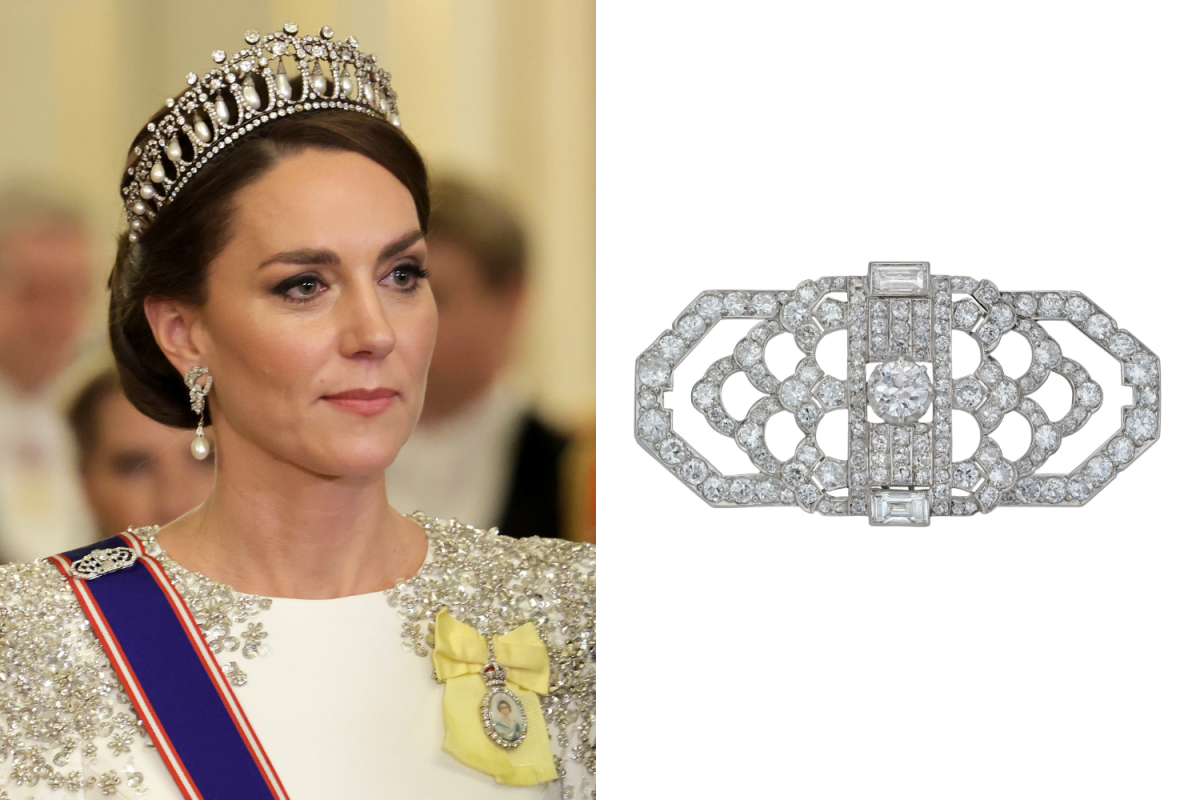 One of Kate's most glittering brooches is an art deco piece made completely of diamonds set in platinum. It was worn for the first time at the Remembrance Sunday service in 2022.
How the princess acquired the jewel is a mystery. It was listed for sale by London-based jewelers Bentley & Skinner in January 2022, priced at £14,500 ($18,098).
Reports about the brooch speculated that the jewel could have been given to Kate as a 40th birthday present. The princess passed that milestone on January 9 of that year.
Following the remembrance event, Kate wore the brooch for a November 22, 2022, state banquet hosted at Buckingham Palace for the president of South Africa.
James Crawford-Smith is Newsweek's royal reporter, based in London. You can find him on X (formerly Twitter) at @jrcrawfordsmith and read his stories on Newsweek's The Royals Facebook page.
Do you have a question about King Charles III, William and Kate, Meghan and Harry, or their family that you would like our experienced royal correspondents to answer? Email [email protected]. We'd love to hear from you.
Uncommon Knowledge
Newsweek is committed to challenging conventional wisdom and finding connections in the search for common ground.
Newsweek is committed to challenging conventional wisdom and finding connections in the search for common ground.