Republican Representatives Liz Cheney and Adam Kinzinger took intention at fellow GOP Representative Madison Cawthorn, slamming the North Carolina lawmaker after he referred to as Ukrainian President Volodymyr Zelensky a "thug" and his authorities "incredibly evil."
Local North Carolina information station WRAL on Thursday revealed the video clip of Cawthorn at a current occasion criticizing Ukraine and the Eastern European nation's president after Russia's internationally condemned invasion of the nation started on February 24.
"Remember that Zelensky is a thug," the Republican congressman mentioned within the video. "Remember that the Ukrainian government is incredibly corrupt and is incredibly evil and has been pushing woke ideologies."
Cheney and Kinzinger, staunch Putin critics who're additionally strongly against former President Donald Trump and his faction of the Republican Party, criticized Cawthorn's remarks in Thursday night Twitter posts.
"This is the sad but successful impact of Russia's cyber operation that we've seen pushed and promoted on conservative outlets. The threat is real and it's dangerous. Case in point: a sitting US Congressman is echoing Putin propaganda," Kinzinger, who represents Illinois, wrote.
In a follow-up submit, the Republican lawmaker urged GOP House Minority Leader Kevin McCarthy of California to reply.
"Care to comment @GOPLeader," Kinzinger tweeted.
"Another member of the Putin wing of the @GOP," Cheney, who represents Wyoming, tweeted.
The GOP congresswoman shared the clip of Cawthorn's remarks.
Karl Rove, a GOP strategist, first highlighted Cawthorn's remarks in a Thursday opinion article revealed by The Wall Street Journal.
"Rep. Madison Cawthorn (R., N.C.) didn't reflect Republican opinion when he called Mr. Zelensky 'a thug' and Ukraine's government 'incredibly evil' last Saturday at a town hall in Asheville, N.C.," Rove wrote.
Luke Ball, Cawthorn's spokesperson, informed Newsweek on Thursday that the congressman "was expressing his displeasure at how foreign leaders, including Zelensky, had recently used false propaganda to entice America into becoming involved in an overseas conflict. He supports Ukraine and the Ukrainian president's efforts to defend their country against Russian aggression, but does not want America drawn into another conflict through emotional manipulation."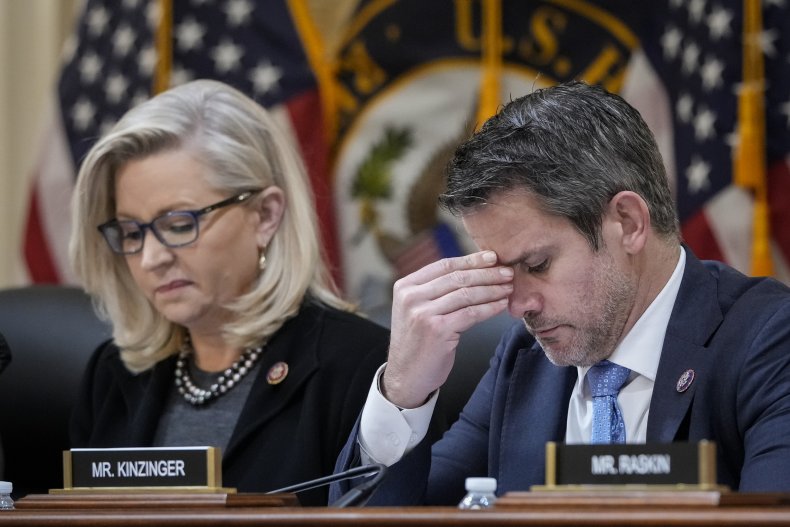 The spokesperson pointed Newsweek to a sequence of tweets posted by the GOP lawmaker on Thursday afternoon, as properly.
"The actions of Putin and Russia are disgusting. But leaders, including Zelensky, should NOT push misinformation on America," Cawthorn wrote. "I am praying for Ukraine and the Ukrainian people."
Newsweek reached out to Ball on Friday morning for additional touch upon Kinzinger's and Cheney's criticism however didn't instantly obtain a response.
Senator Joni Ernst, an Iowa Republican, addressed Cawthorn straight throughout a Senate ground speech on Thursday.
"The Ukrainians want to be free, they have been fighting for this for the past 30 years and to just hand them over to an actual murderous thug called Vladimir Putin, is the wrong thing to do," Ernst mentioned.
"So to my colleague in the House, I would push back and say it's not Ukraine that is invading Russia, it is Russia that is invading Ukraine."
Cheney and Kinzinger have repeatedly condemned conservatives and fellow GOP lawmakers they view as touting Russian propaganda. After Russian state-controlled media promoted clips of Trump, former Secretary of State Mike Pompeo and Fox News host Tucker Carlson talking favorably of Putin, Cheney warned that they had been getting used as propaganda for Russia.
"As Russian forces invade Ukraine, Russian TV features Donald Trump, Mike Pompeo and Tucker Carlson praising Putin," Cheney tweeted on February 25. "Putin is evil. Every American watching what's happening in Ukraine should know that."